What is CELTA?
The CELTA (Certificate in Training English to Speakers of Other Languages) is the most widely recognised English teaching qualification in the world and will enable you to teach English as a Foreign Language abroad or in language schools in the UK.
About the CELTA Course
The CELTA course at MC Academy consists of 120 hours of contact time, including tuition, observations of experienced teachers, 6 hours of teaching practice, teaching support and feedback. You will also need to spend time on top of that on self-study, preparing lessons and writing assignments.
Commitment & Professionalism
The CELTA course is very intensive and Cambridge requires that you complete every aspect of the course, and have 100% attendance of face-to-face sessions. You will need to dedicate time to lesson planning and writing assignments in the evenings and at weekends too. As working alongside and learning from colleagues is a key part of teaching, all trainees need to demonstrate a professional attitude and work constructively with others, particularly those in their tutor group.
Employability
MC Academy is able to put you in contact with language schools around the world including UK institutions, once the course begins, to aid your job search. The tutors will offer you employability advice near the end of the course and many of our trainees go on to work at MC Academy.
Teaching Practice
The teaching practice sessions form a key part of the course. You will teach classes of international students and gain a genuine experience of the teaching and learning process. Each teaching practice session, you will be provided with planning support from your tutor beforehand, and will receive feedback on your teaching afterwards. By the end of the course, you will have taught at two levels and have completed a total of 6 hours of teaching (in compliance with Cambridge guidelines). 
Tuition
If you study on the face-to-face intensive course, you will participate in daily workshops and seminars, focusing on learner awareness, language analysis, phonology, methodology, and career development. If you study on the blended course, you will cover the same content, but you will do it online, using the Cambridge Assessment VLE. 
Examination
There is no examination on the CELTA, so assessment is continuous and is carried out by the course tutors and a Cambridge assessor who ensures that tutors work consistently and in accordance with guidelines. You will be assessed on your teaching, and also on the four written assignments.
Support
Throughout the course, your tutors will provide you with ongoing support. You will also receive at least one individual tutorial during the course in which you will be given an indication of your progress.
CELTA Course Dates 2023
If you are interested in studying a CELTA course at MC Academy but are unable to attend the dates mentioned below, please get in contact to see what options are available to you.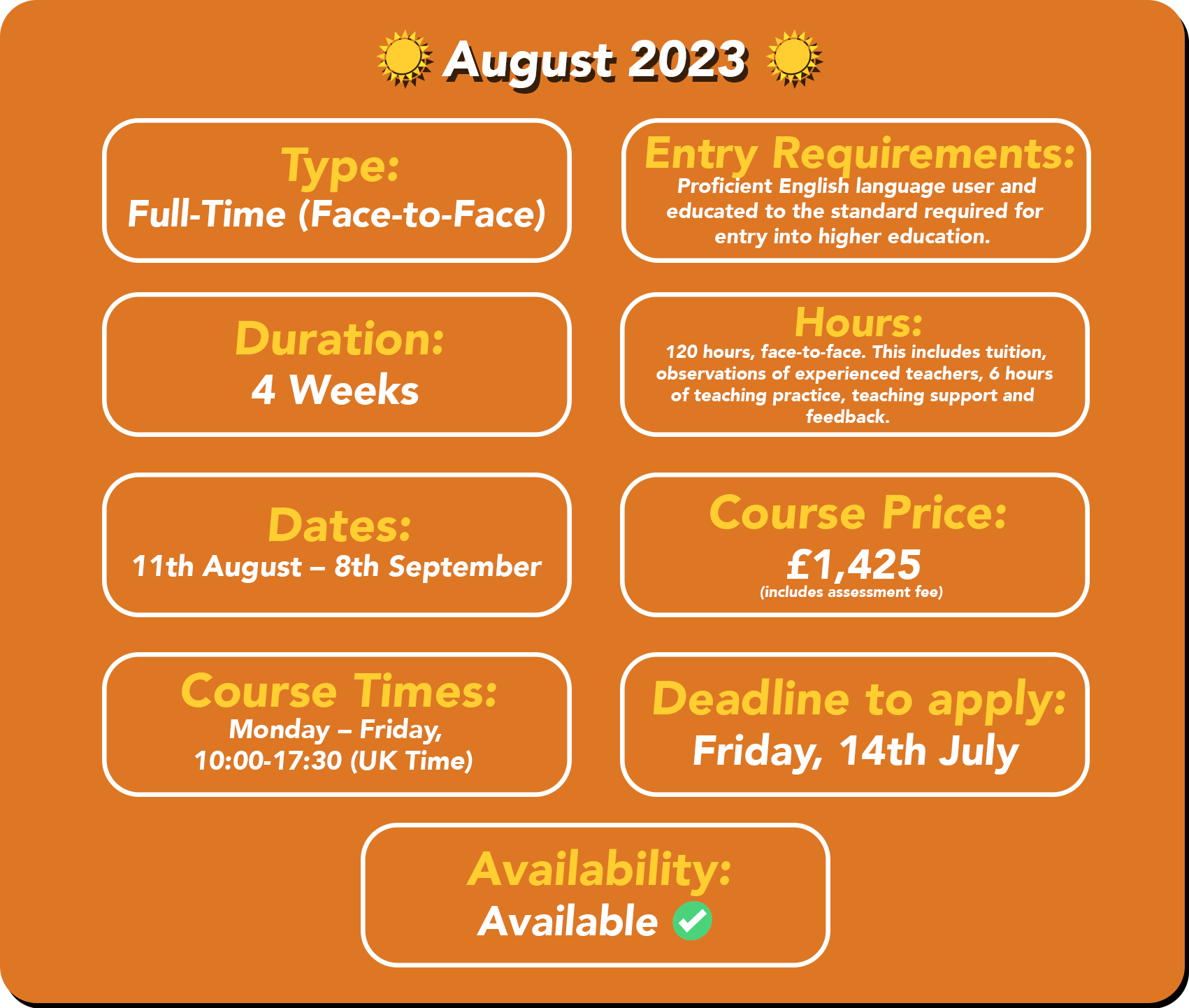 To apply, please complete both the application form and pre-interview task and email them to [email protected].
If your application has been accepted, we will invite you to an interview.
If your interview is successful, we will offer you a place on the course. Course fees need to be paid 10 working days before the course start date to confirm your place on the course.
Please note that course fees are not refundable. In the event of a candidate withdrawing from the course once it has started, MC Academy cannot refund fees or offer a place on a subsequent course without payment of further full fees. If you pay, and decide to cancel before the course start date, this needs to be done in writing before the application deadline, in order to allow another candidate to take your place.
Please complete the application form and pre-interview task online by clicking the buttons below. Thank you!
What did previous CELTA Trainees think about their course at MC Academy?
What qualifications do I need to do the CELTA?
The entry requirement is that you are a proficient English language user (between CEFR Level C1 and C2 or above) and educated to the standard required for entry into higher education.
How often do I need to come in to the centre?
On the part-time course, twice a week (Tuesdays & Wednesdays from 14:30-17:30) for 12 weeks.
On the full-time course, Monday to Friday from 10.00 – 17.30 for 4 weeks.
What is teaching practice?
You'll be teaching 6 hours in total, you will receive your teaching practice timetable along with the course timetable at the beginning of the course. This will be scheduled two weeks prior to the course.
What are the assignments like?
You will need to do four written assignments, each one being 700 – 1,000 words. They require some reading and research, but also have a practical focus, and complement the teaching practice. You need to pass a minimum of three assignments to pass the course.
How many hours per week do I need to set aside for study?
Apart from teaching practice and the hours you spend in the centre, you will need to spend about 20 hours a week at home on lesson planning, writing assignments and self-study (although this may vary slightly, depending on the week!)
What's the difference between TEFL/TESOL and CELTA?
CELTA (Certificate in English Language Teaching to Adults) is the name of the initial teaching qualification. TEFL (Teaching English as a Foreign Language) is the name of the profession, although the terminology is changing and many professionals now speak of ELT (English Language Teaching).
There are many TEFL (ELT) courses offered in the UK but the CELTA along with the Trinity Cert-TESOL (Certificate in Teaching English to Speakers of Other Languages) are particularly well respected by language schools recruiting teachers with a TEFL (ELT) qualification.
I have never taught before. Is CELTA a suitable course for me?
Yes. CELTA is both a beginners' course, designed for those who have never taught before, and it is also suitable for individuals who have previously been teaching English without a formal certification. You will receive ongoing support from your tutors (and colleagues!)
I have teaching experience but don't have a formal qualification. Can I do CELTA?
Yes. Many experienced teachers take the CELTA. If you have a CELTA qualification, you can work in accredited language schools across the world. Since the course emphasises group work you may find your experience is useful to others on the course. You will certainly add new techniques to your repertoire and build on your existing skills.
How can I find out if my English is good enough to do a CELTA course?
According to Cambridge, if English is not your first language, you should have a strong C1 (on the CEFR scale) level of English. This is equivalent to having passed the Cambridge C1 Advanced exam, or gained a 7.5 IELTS score. However, you do not need to provide formal proof of your level – your language ability will be assessed during the application process to ensure that your English skills are strong enough to cope with the course requirements.
Do I need to have a degree to do the course?
No. It is recommended that you have educational qualifications that would allow entry to Higher Education but your previous work experience will also be taken into consideration. In some countries, a degree is required in order to get a work permit (e.g. Japan). You are advised to consult individual embassies for accurate information and advice.
Is this course recognised?
The CELTA is recognised all over the world and is often a requirement to gain employment in English Language schools. If you want to work in the public sector in the UK you will need to gain further qualifications.
What is the interview process?
You will be asked to complete some language awareness tasks and a short piece of writing. The interviewer, a CELTA course tutor, will then follow up on points of interest in the task by asking you to comment and expand on your answers. The tutor will then describe what the course consists of, and answer any questions you have. At the end of the interview, the tutor will decide if we are able to offer you a place on the course.
Is the price the same for both options?
Full-time and part-time fees at MC Academy are exactly the same: £1,425.
Is it easy to find a job after the CELTA?
Work is plentiful in the UK during July and August. At other times of the year, it is more likely you will find employment if you are willing to be flexible about working hours. Towards the end of the course, you will be given some general advice on looking for work. Tutors can provide references for those candidates that need them.
If I decide to drop out of the course, will I be eligible for a refund?
No. That's why we interview potential trainees very carefully and provide as much information as possible so that you know exactly what you are getting into!
Is there an exam?
No. You will be assessed on Teaching Practice (including lesson planning), assignments and professional conduct.
How will I be assessed on the course?
Assessment on the course is continuous and integrated, taking into account teaching skills, written assignments and professionalism, with each assessed component contributing to the overall grade. Trainees are given feedback by the tutors on their teaching and have two tutorials during the course at which they discuss their progress. All tutors working on the course discuss each trainee's progress before deciding on the final grade.
What grades are awarded at the end?
The possible grades are Pass A, Pass B, Pass, Withdrawn or Fail. It is very rare to get an A and not that common to get a B. The majority of candidates get a Pass.
Does anyone fail?
It is possible to fail – for example, if your teaching has not reached the standard specified by Cambridge, or if you don't pass three out of four assignments. Candidates who withdraw but do not do so in writing will also be given a Fail grade.
How intensive is the course?
The CELTA is very intensive! Even if you take the part-time course, you will need to make sure you have few other commitments as you will need to dedicate about 20 hours a week to studying, lesson preparation and writing assignments.
On the full-time course, you should be prepared to devote five days a week (including some evenings) to the course, and to spend usually one day of each weekend on course-related work. You should have no other commitments other than the course itself.
Can I miss any days of the course?
No. You must attend 100% of the course. If you have to be absent due to illness, you will need to provide a doctor's letter. All absences are recorded and must be accounted for.
ARE YOU READY TO JOIN MC ACADEMY?
The most central English language school in Manchester.