1.Nexus Art Café
**2 Dale Street, M1 1JW
A welcoming café that serves great soup, sandwiches and salads until 7pm on most days. Although it's right in the heart of Manchester's lively Northern Quarter, its tucked away location means that it's always a calm and cosy place to grab lunch.
To find it: leaving MCSE, cut across the corner of Piccadilly Gardens and up Oldham Street into the Northern Quarter. Take the second right on to Dale Street and you'll see a sign pointing you down some stairs to the café.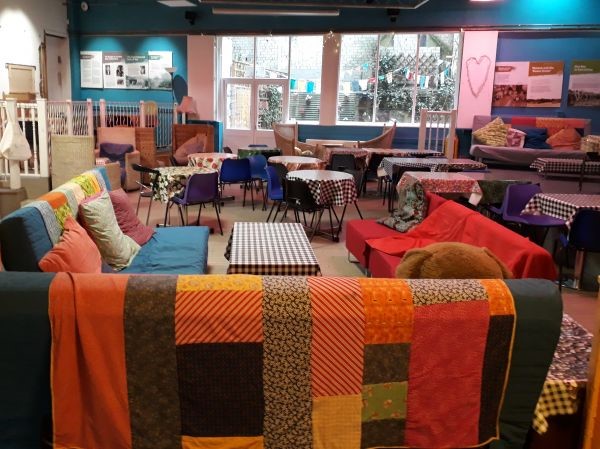 2.Foundation Coffee House
**Sevendale House, Lever Street, M1 1JB
The Northern Quarter is full of coffee shops; Foundation is one of the best. The baristas are always happy to help you choose from a long (and ever changing!) menu of teas, coffees, cakes, healthy snacks and fresh food. The space itself is large, bright and stylish, with plenty of large tables to work at throughout the afternoon. It's open late Wednesday to Saturday.
To find it: leave MCSE and walk across Piccadilly Gardens, past Morrisons and then left up Lever Street until you come to Foundation set up some steps on the left.   
3.Chinese Centre for Contemporary Art (CFCCA)
**Thomas Street, M4 1EU
The CFCCA may be tiny compared to Manchester's other galleries but it's leading the UK in exploring contemporary Chinese culture. Its three main exhibition rooms are always full of stimulating surprises and there's a rolling programme of events, talks and tours for those especially interested in the work.
To find it: leave MCSE, take a left and go past Starbucks up Tib Street. Keep on Tib Street until you pass a car park entrance, then take a left down Thomas Street. The CFCCA is at the far end of Thomas Street, on the right hand side. 

4.Manchester Central Library
A beautiful building in the city centre where you can always find something of interest. Full of much more than just books, there are useful resources, study spaces, two great cafés, computers (free to use for the first hour), and fun exhibitions. On the top floor you can find magazines, newspapers and specialist publications from around the world.
To find it: leave MCSE, take a right and go straight down Mosley Street until you reach St Peter's Square, cross to the opposite corner and you'll see the library ahead of you. 
5.Street Food Market
Every Thursday, Friday and Saturday, over a dozen street food vendors are open on Piccadilly Gardens. There's some incredible food on offer representing cuisines from all over the world, including Turkish, Italian, Indian, Caribbean, Chinese, Lebanese, and Spanish.
For a full list of traders, see here [http://www.manchester.gov.uk/info/616/special-interest_markets/6543/manchester_markets_trader_lists/7].
To find it: leave MCSE – it's right in front of you!