IELTS Teacher Training FAQ
IELTS Teacher Training – Help and Advice.
Are you looking to teach IELTS? Do you need a CELTA qualification? To learn more about the CELTA course for IELTS purposes, please read the FAQs 

below.
I have never taught IELTS – is this a suitable course for me?
Yes, the course is aimed at teachers who have little or no experience of IELTS and focuses on how to prepare students for the IELTS exam, as well as the key features for designing and running an IELTS preparation programme.
How can I find out if my English is good enough to do the course?
You need to be a near-native speaker of English. That means English does not have to be your first language, but you must be able to speak, read and write English almost as well as you can in your first language. We will not assess your English language skills prior to the course so it is your responsibility to determine if your English skills are near-native.
Do I need to have a degree or specific teaching qualifications to do the course?
You don't need a degree but it is recommended that you have educational qualifications that would allow entry to Higher Education. A teaching qualification such as CELTA, PGCE (or equivalents) would be beneficial but are not essential.
How do I apply?
If you meet the language and educational requirements described above, please email us at [email protected] letting us know the dates of the course you are interested in and your contact details. There is no interview procedure.
What is the content of the course?
Please see the course overview at:
http://oldmcse1.wpengine.com/course/ielts-teacher/
When are the courses?
Courses run frequently throughout the year, for specific dates please go to: http://oldmcse1.wpengine.com/course/ielts-teacher/
How long is the course and what time are the classes?
This is an intensive 21-hour course over 4 days: classes begin at 9.30 am and finish at 3.45pm (lunch 12.45pm – 1.45pm).
If I decide to drop out of the course, will I be eligible for a refund?
No. This is a short intensive course and we provide potential trainees with as much information as possible beforehand so that you know exactly what you are getting into. It is for this reason that MC Academy is unable to issue refunds for this course.
Will I be assessed on the course? Is there an exam?
No. The course consists of four days of intensive input sessions – students are expected to contribute to and participate in the classes as fully as possible, but there is no formal assessment procedure.
Will I fail if I am absent?
There is no pass or fail on the course. However, trainees are expected to attend 100% of the course as this is a short intensive course. If you have to be absent due to illness, you will need to provide a doctor's letter. All absences are recorded and must be accounted for.
Will I receive certification?
Any trainee with less than 85% attendance will not receive certification from MC Academy as they will be deemed to have missed too much of the course. All other trainees receive MC Academy certification confirming that they have attended and completed MC Academy's IELTS Teacher-Training Course and detailing the modules covered on the course.
Course numbers
The course will not run if there are less than 10 trainees.
Further information
If we have not answered all your questions about the course, please feel free to call MC Academy (0161 236 7575) and one of our IELTS tutors will be happy to help you.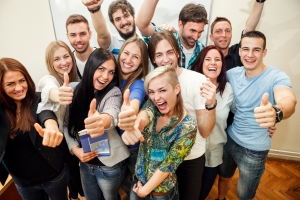 Teacher Training

Professional Qualification

Study at MC Academy
ARE YOU READY TO JOIN MC ACADEMY?
The most central English language school in Manchester.