A New Director of Studies, Teaching Prospects, & Positive Words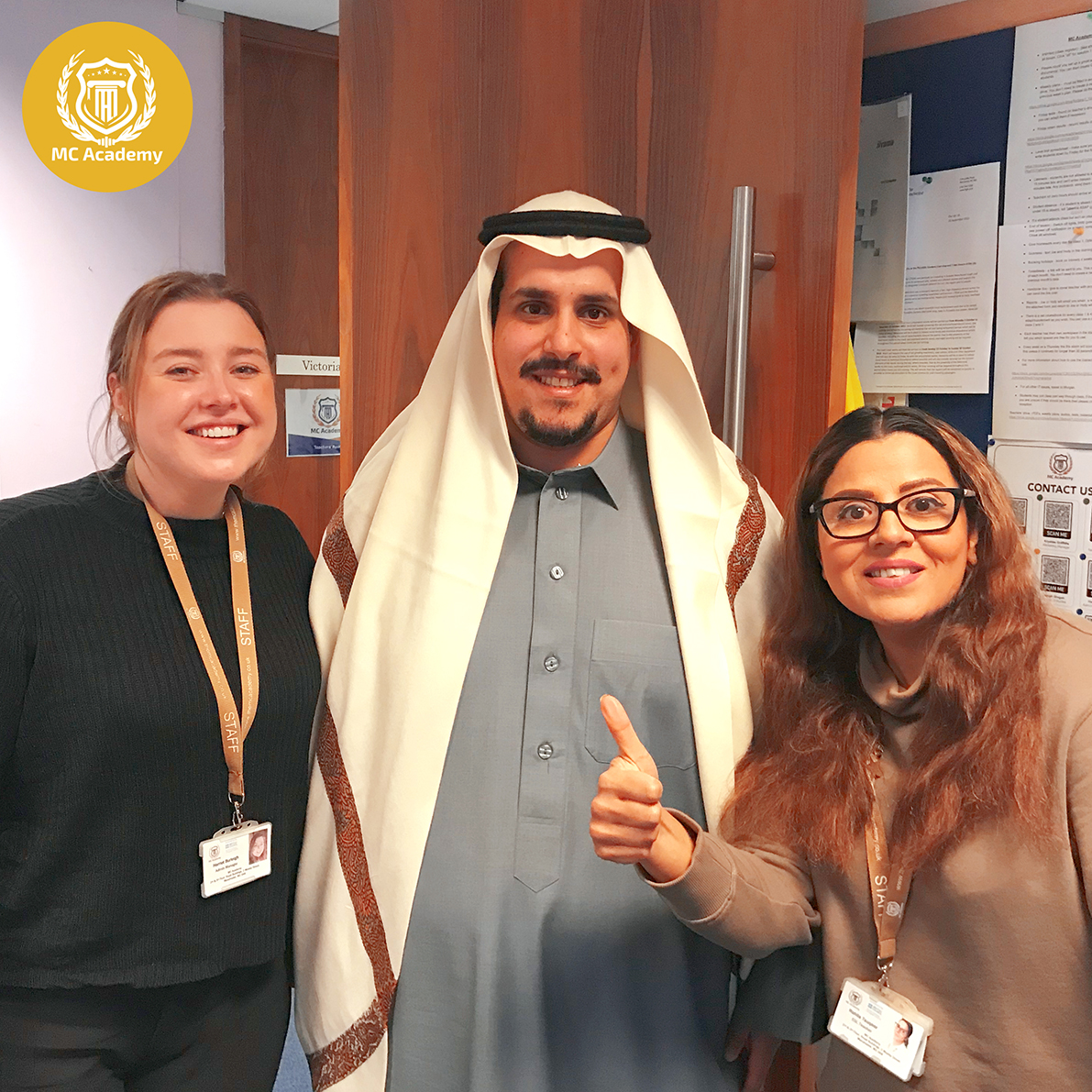 📚

New Director of Studies

📚
Next week, we will have a new Director of Studies at MC Academy! We are happy to announce that from next Monday, Rahila Tauqeer will be our next Director of Studies. Rahila is looking forward to being the Director of Studies at MC Academy and is excited to help assist students and other members of staff in her new role. Well done, Rahila! We wish you all the best in your new role as the DOS.
We would also like to thank our current Director of Studies, Joe, for his time as the Director of Studies over the past few years. We will miss you when you leave MC Academy but we wish you all the best in your new job.
Here are a few words from Rahila regarding her new role.
"Thank you very much for providing me the opportunity to share my knowledge and expertise as the DOS of MC academy. Having offered my services for this school for a long period, I look back on what we have been able to accomplish. We have managed to create an outstanding team of excellent teachers, who provide "high-quality teaching." MC academy ensures every teacher is supported in delivering high-quality teaching to achieve the best outcomes for all the students. The dedication exhibited by teachers has resulted in increasing the number of students over the years. I highly appreciate the efforts and hard work put in by all my colleagues to improve the standard of education at MC academy. I believe we need to continue to strengthen the bond of our relationship and build a stronger team, putting in our full potential. I continue to be energised by the new tasks, challenges and look forward to advancing these efforts with you. I also highly appreciate the amount of effort and hard work put in by our students who are amazing, enthusiastic and full of energy.  🙂
Thank you for all that you do to support MC academy. I welcome your feedback on all academic matters. Please do not hesitate to come to me if you have any problems and do keep me up to date on your activities. And of course, feel free to share your good experiences with me too. You are all very welcome. My working hours are 8:00 am to 4:00 pm."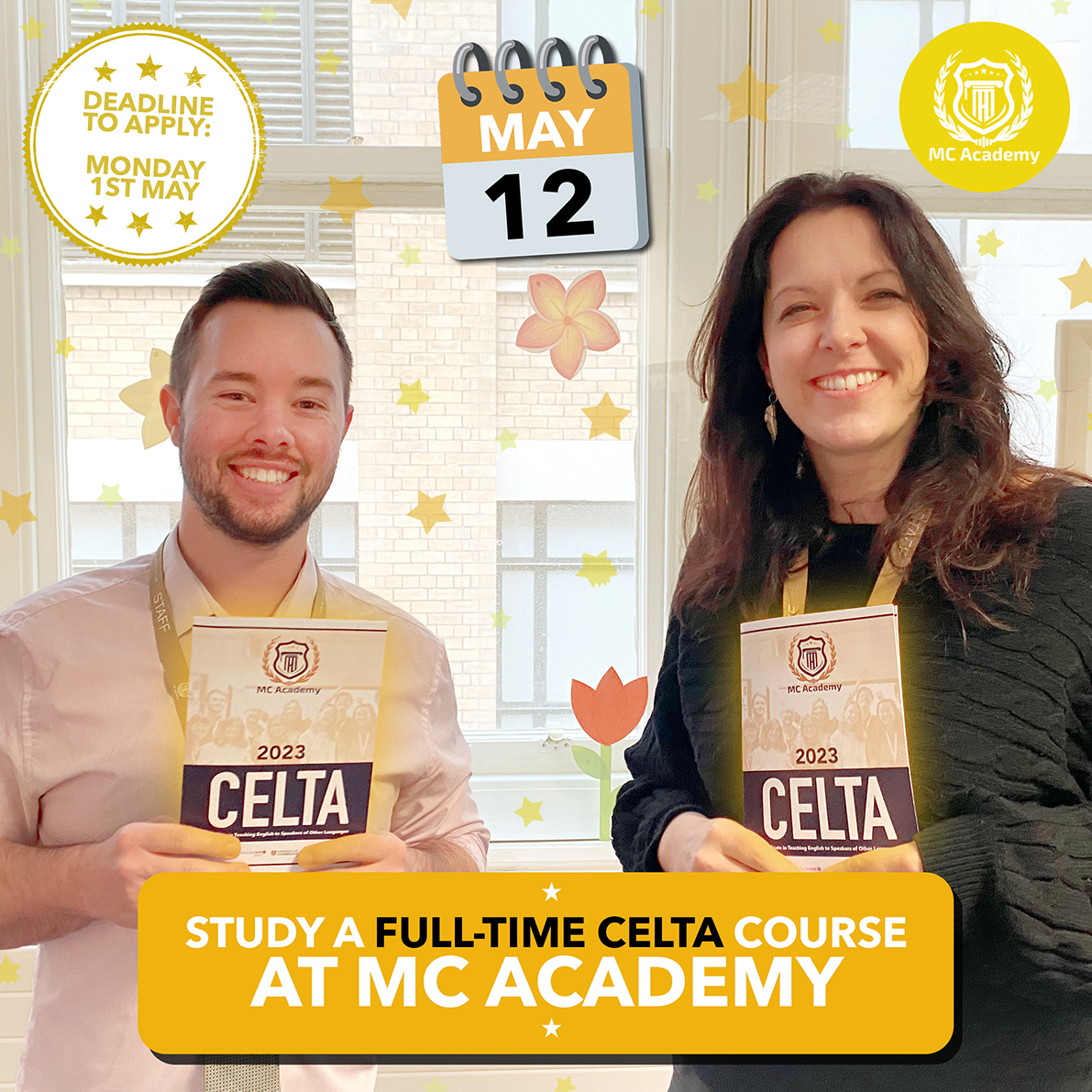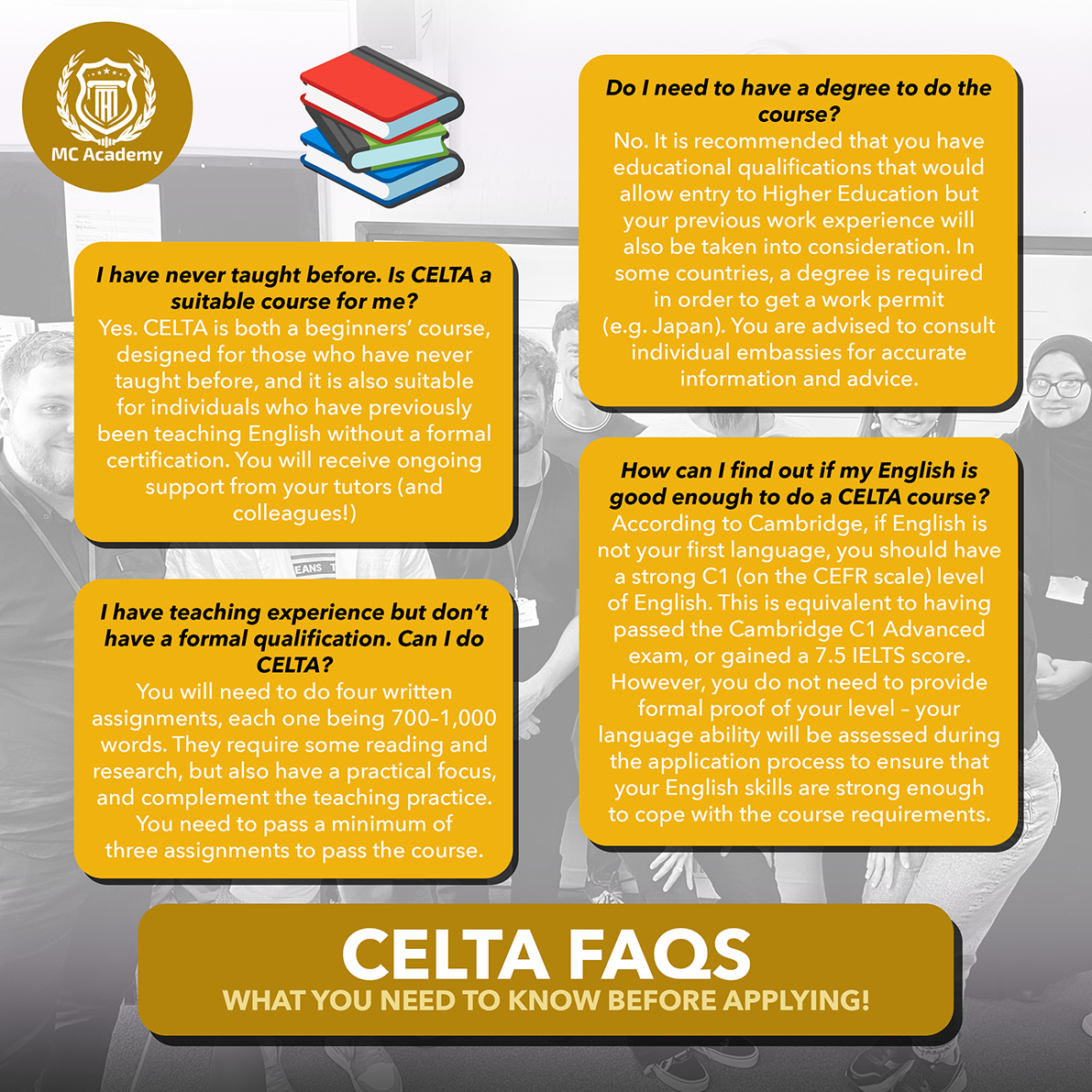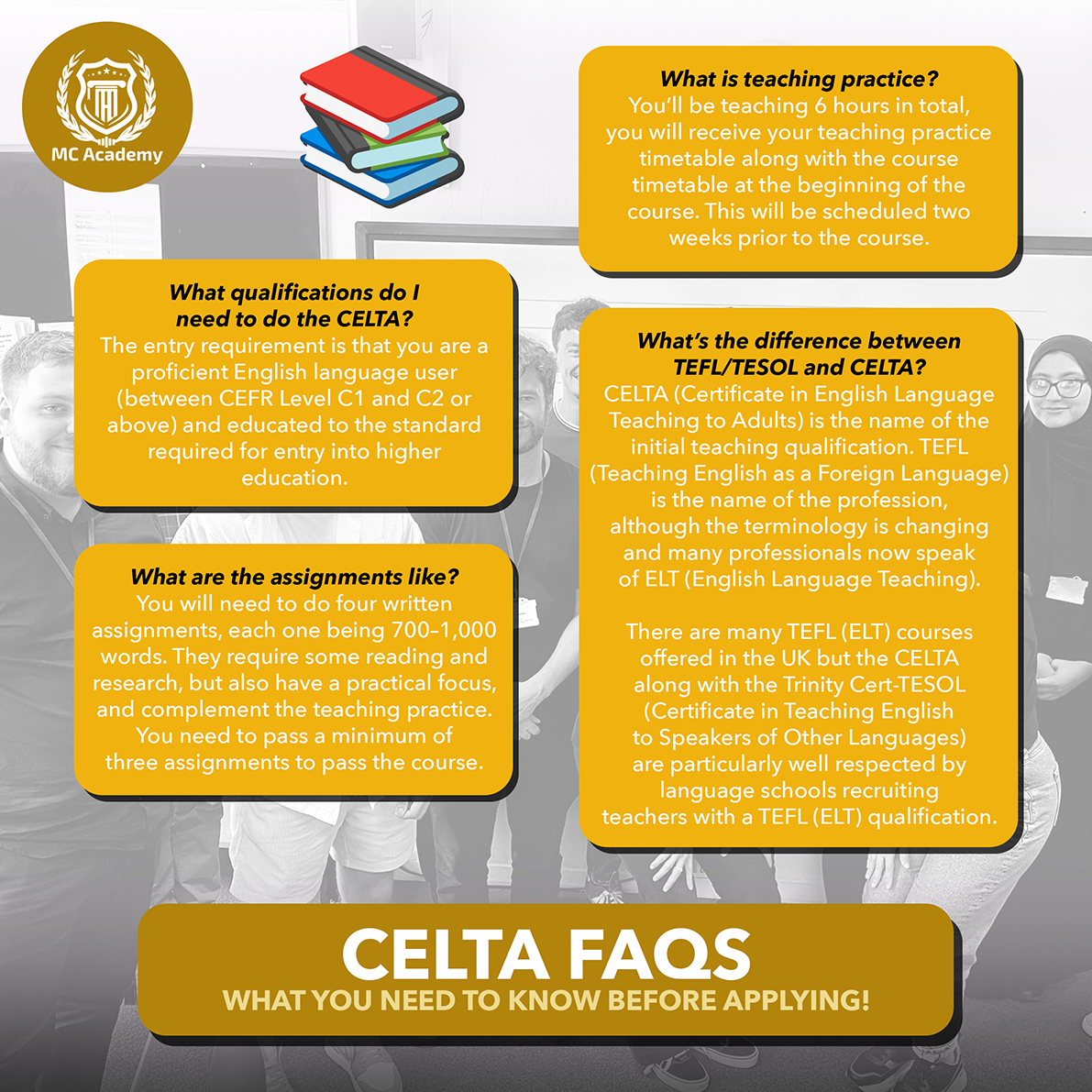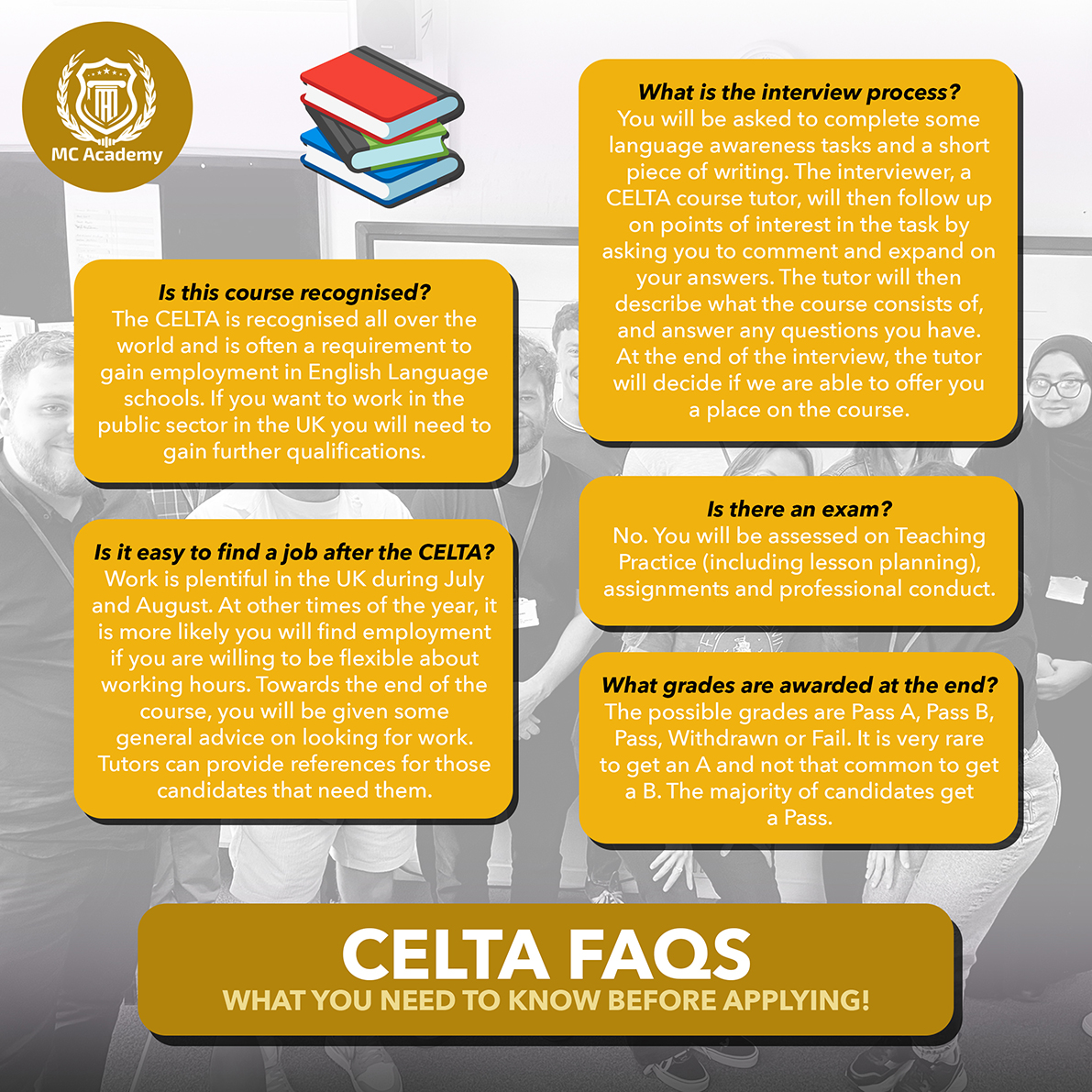 🤩

Teaching Career Prospects at MC Academy

🤩
If you are curious to know whether a CELTA course is the right course for you, please read our FAQs to learn more about the course and what it entails.
Due to a shortage of qualified English language teachers in the UK, there are currently plenty of work opportunities for newly-qualified teachers.
If you have a passion for teaching and are interested in teaching English to speakers of other languages then consider applying to our May CELTA course. Become a CELTA-qualified teacher in only 4 weeks and begin your new career as an EFL Teacher.
🗝 Key Information 🗝
Course Start Date: Friday, 12th May 2023
Course End Date: Friday, 9th June 2023
Course Type: Full-Time (Face-to-Face)
Application Deadline: Monday, 1st May 2023
If you wish to apply to study a CELTA course at MC Academy, please complete an application form and a pre-interview task. Both documents can be downloaded from our website.
If you have any questions regarding the CELTA course this May then please do not hesitate to get in contact! 😊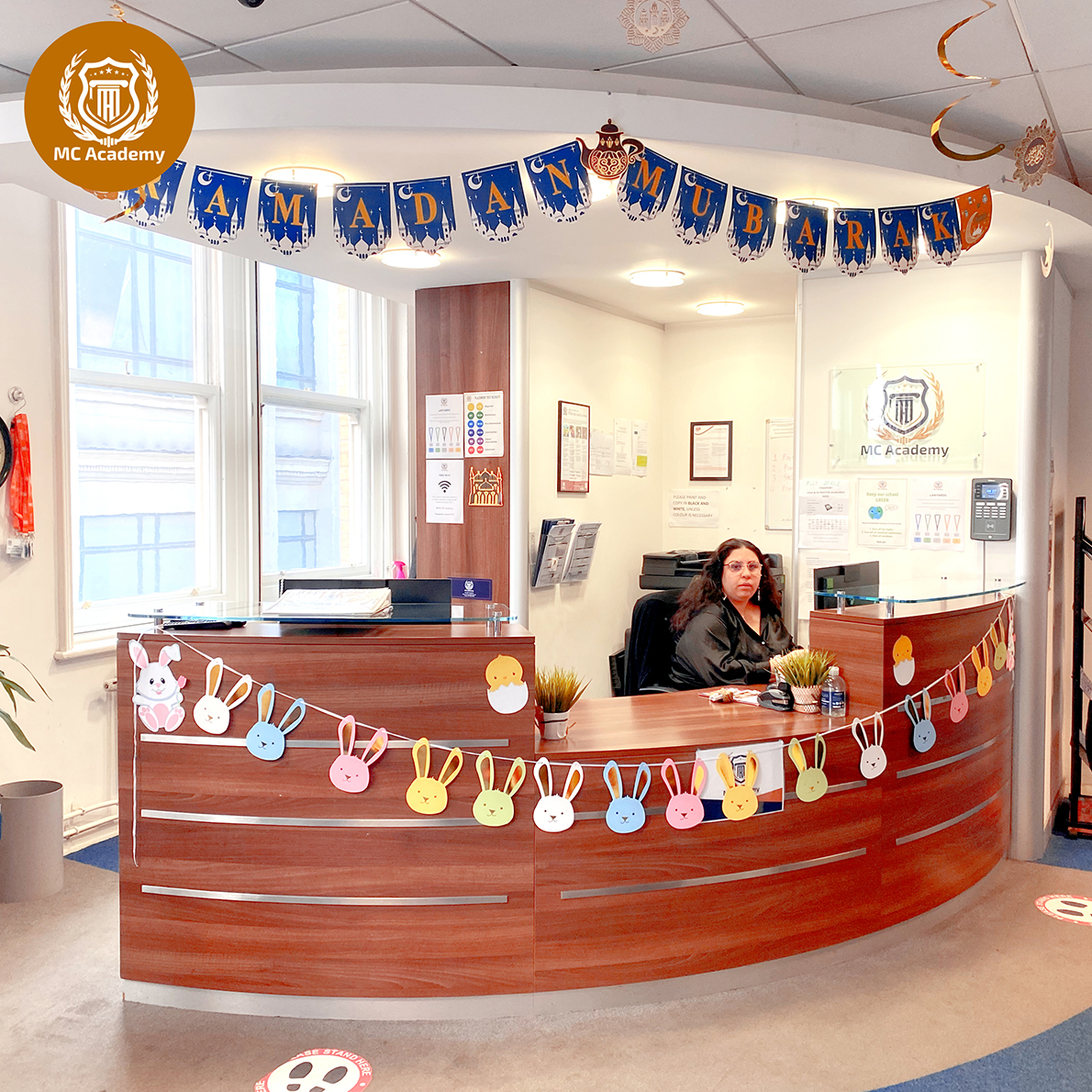 ✍️

Student Feedback

✍️
We would like to say a big thank you to Hind for your feedback on your course.
Thank you, Hind, for your feedback on your course! We are happy to know that you enjoyed your time at MC Academy! 😊
Fun fact – you can still see Hind's homemade flower displays at Reception! Make sure you keep an eye out for them! 🌸
If you would like to read more student testimonials from our students, please visit our website.
🌐 https://themcacademy.co.uk/student-testimonials/