16th June 2023
News & Events at MC Academy This Week
25% Discount on Course Fees, Homestay Host Opportunities, Business English, & More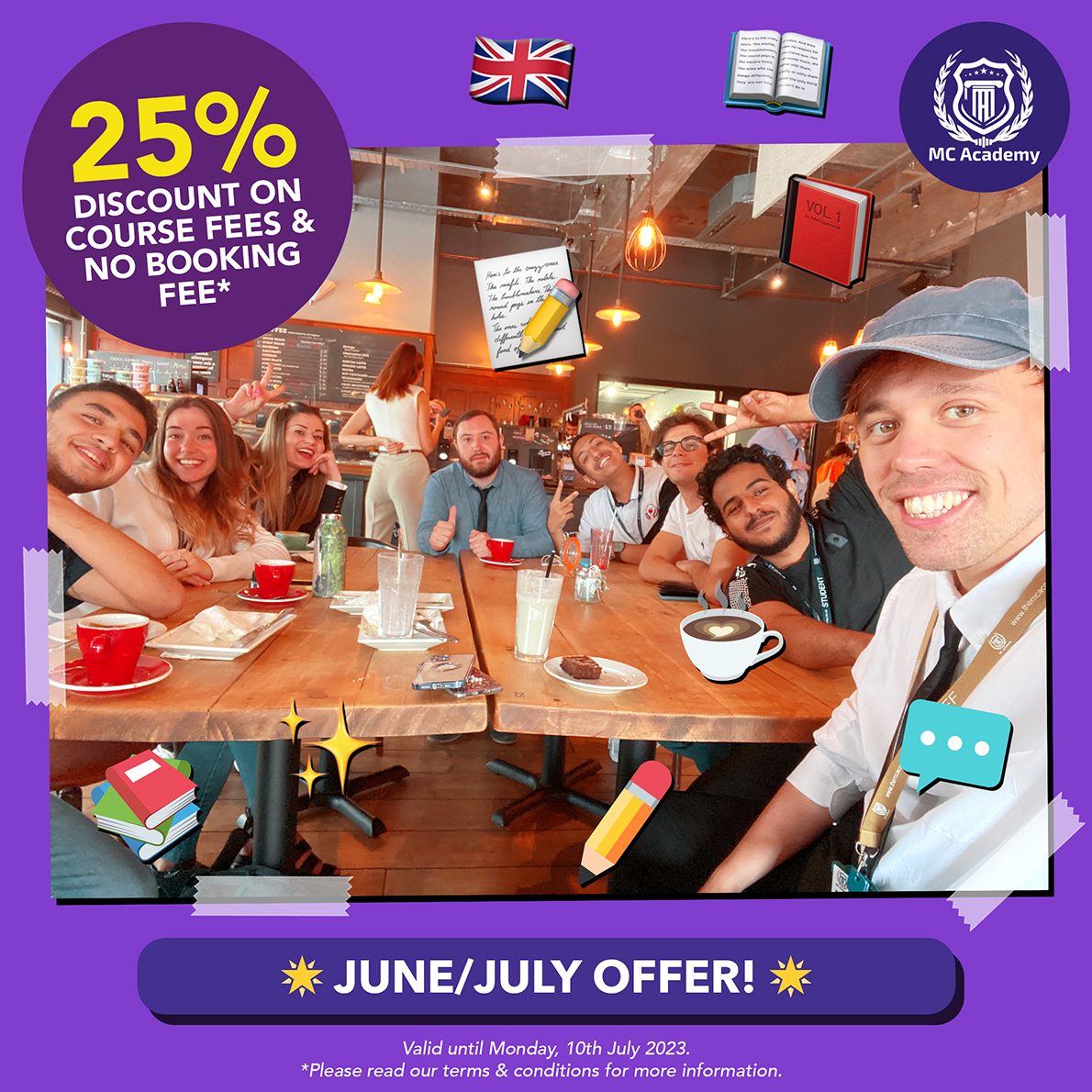 📚

 

June/July Offer – 25% Discount on Course Fees & Free Booking Fee

📚
We are happy to announce that we are offering a 25% discount on our General English and IELTS Exam Preparation courses with no booking fee for new applications!
If you are interested in taking advantage of our June/July offer, apply before Monday, 10th July to book your course! 😊
If you would like to know more about this offer, please get in contact and a member of our Sales Team would be happy to speak with you.
🌐 https://themcacademy.co.uk/apply/
Please read our terms & conditions for more information.
🏠

Become a Homestay Host with MC Academy

🏠
Become a homestay host with MC Academy and earn up to £200 per week for hosting one of our students.
Benefits of becoming a homestay host with MC Academy
💡 You will learn more about students from other countries and provide them with an unforgettable experience whilst living in the U.K.
💡 You will earn additional income by providing students with a look into British culture and tradition.
💡 Some of our current homestay hosts have been hosting students for over 40 years and continue to host as they value the experience that it provides for them.
💡 Our Accommodation Officer, Márta, keepS in regular contact with our hosts to ensure that they are provided with students to accommodate and to answer any questions that they may have.
If you are interested in becoming a homestay host or would like more information, please get in contact! 😊
🌐 https://themcacademy.co.uk/become-a-host/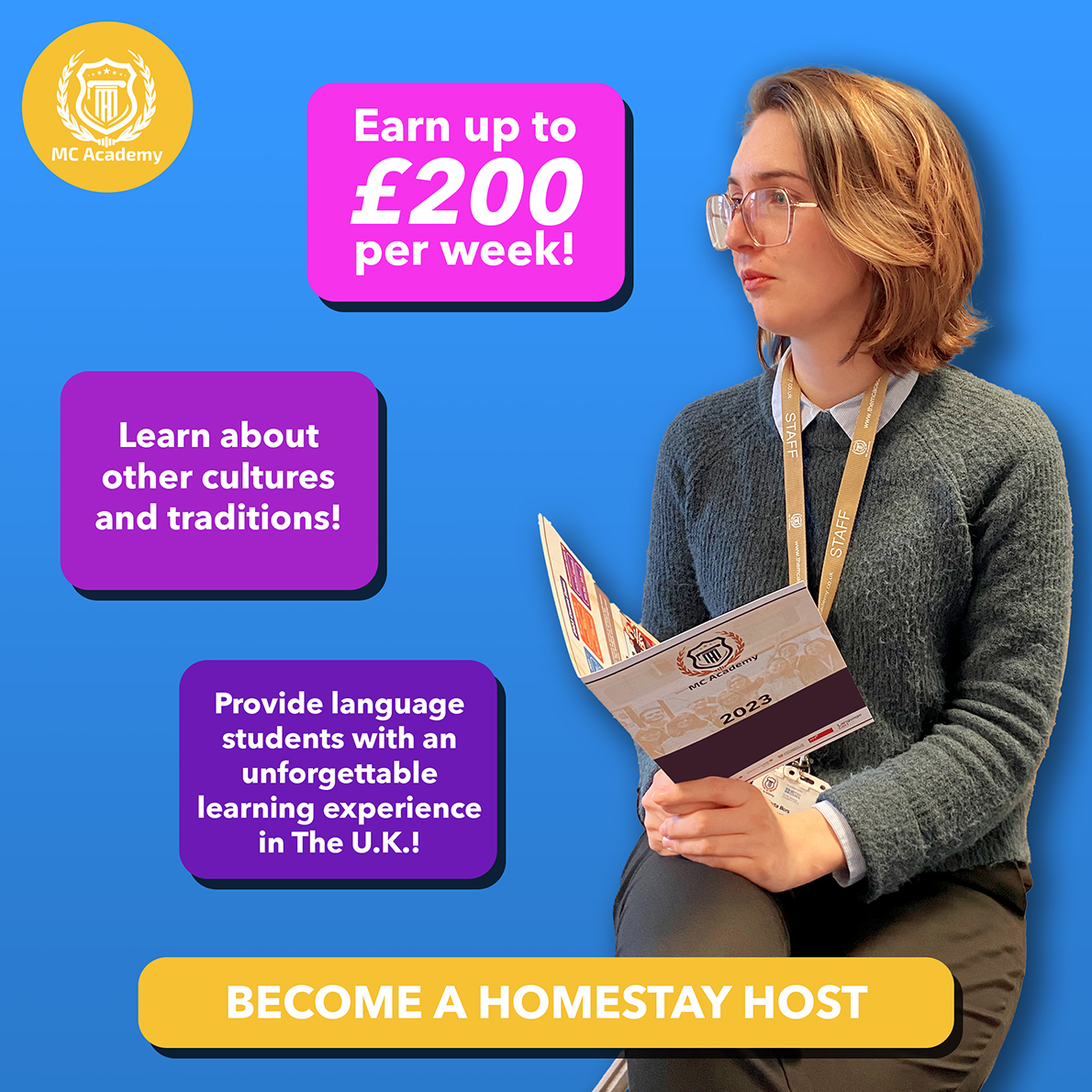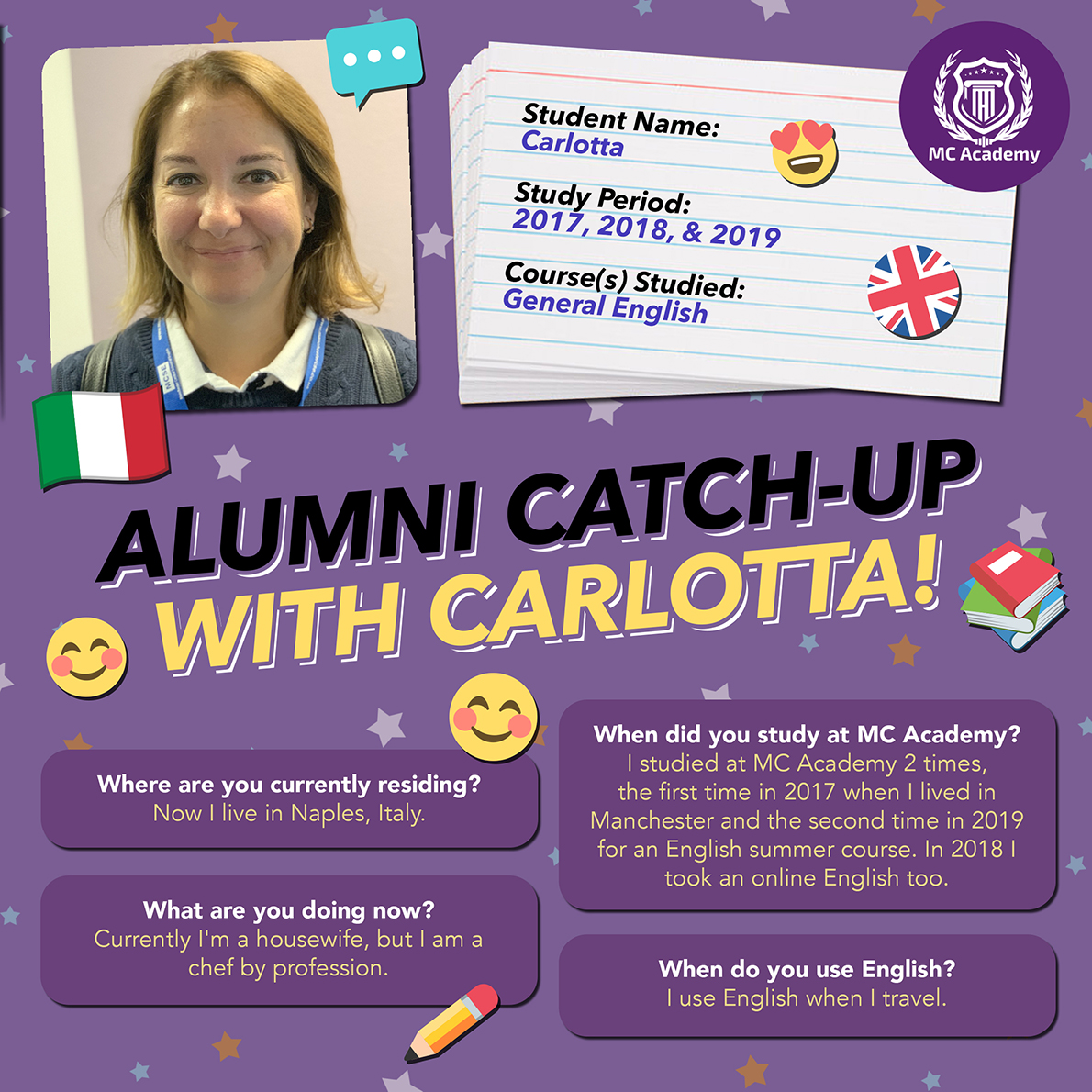 ✨

Alumni Catch-Up

✨
Our Sales & Marketing Manager, Arianna, has recently been in contact with a former student of MC Academy who studied in 2017, 2018, & 2019!
Thank you, Carlotta, for providing us with a look into your life after leaving MC Academy! We hope you are enjoying your time in Naples and we would love to see you if ever you visit Manchester again in the future! 😊
To read more alumni catch-ups, please visit our website.
🌐 https://themcacademy.co.uk/mcacademyalumni/
📈

Study Business English at MC Academy

📈
Our Business English class opened this week and our students have been learning a variety of topics in the first week. Earlier in the week, we had the pleasure of speaking with Charlie, who teaches the Business English class, to find out what the students are learning about.
(INSERT WORDS FROM CHARLIE HERE)
🗝️ Key Information 🗝️
Level Requirement: A2+ (Pre-Intermediate+)
Time: 12:45-13:45
Hours Per Week: 5
Price Per Week: £105 per Week (plus a £60 enrolment fee for new students)
The Business English class at MC Academy prepares students for working internationally in various business fields by:
📕 Teaching learners how to use English in business environments.
📗 Studying a variety of business-related topics such as arranging meetings, job descriptions, staff motivation, recruitment, letter writing, e-business, and business ethics.
📘 Developing key language skills and cross-cultural communication skills through business-orientated tasks.
📙 Stimulating creative thinking and analysis by dealing with real-life work situations.
If you would like more information about our Business English class or would like to apply, please get in contact! 😊
🌐 https://themcacademy.co.uk/business-english/
🌐 https://themcacademy.co.uk/apply/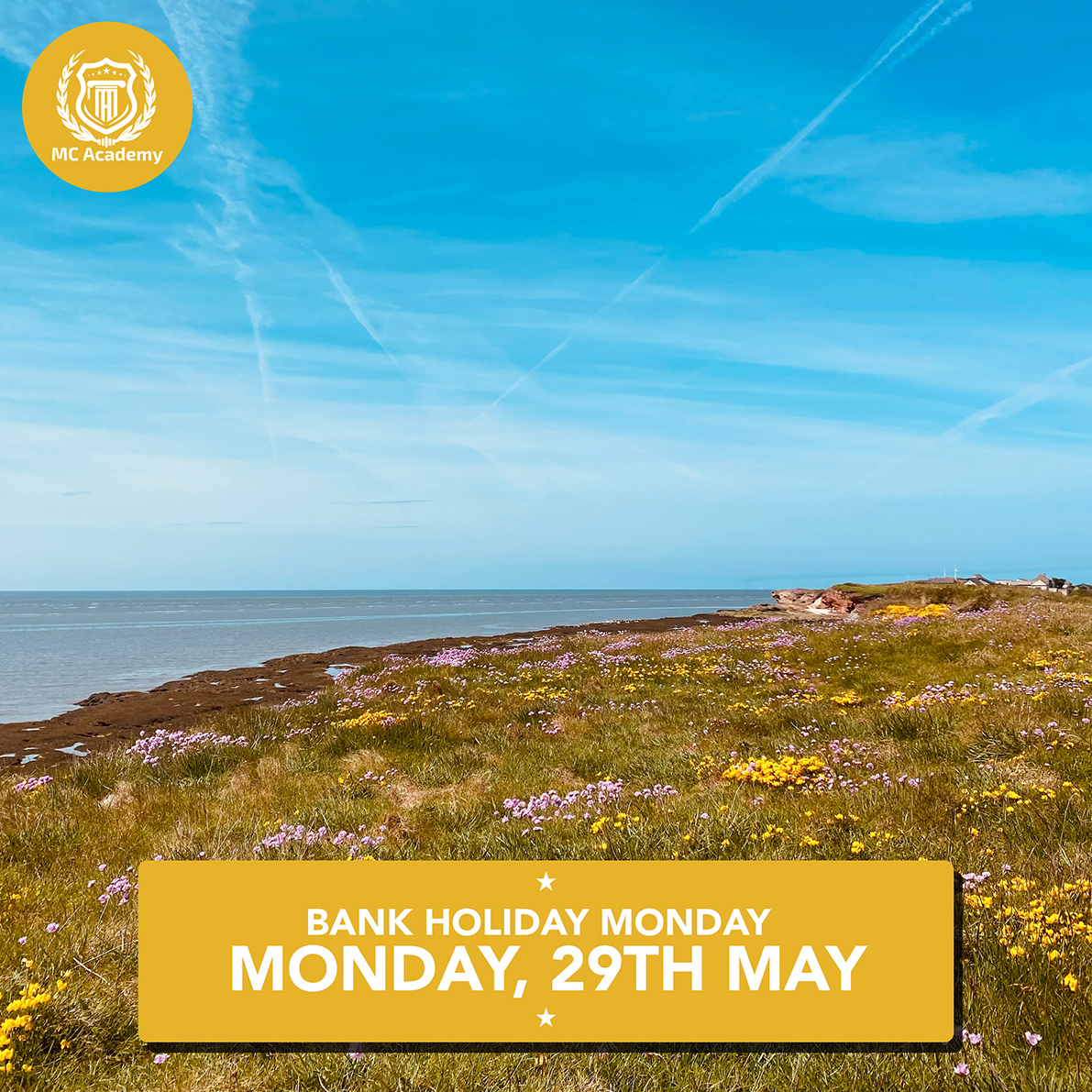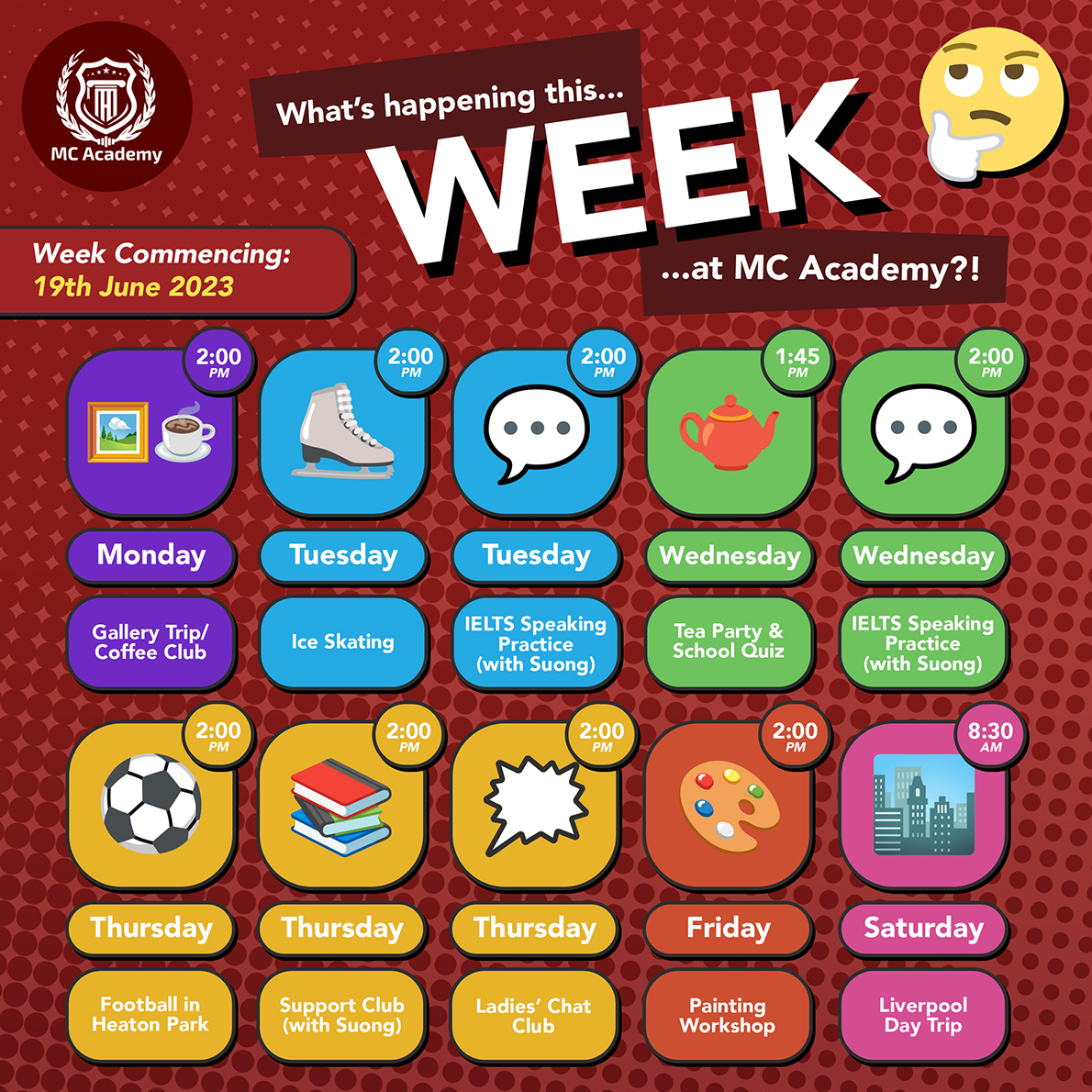 🥳

Next Week's Social Activities

🥳
At MC Academy, we are happy to provide our students with a range of activities and workshops to attend after class. Our activities are open to students of all levels.
Next week's activities include:
🐝 Tuesday: Spelling Bee
🫖 Wednesday: English Tea Party
🍿 Thursday: Cinema Club
📚 Thursday: Support Club
🗯️ Thursday: Ladies' Chat Club
💰 Friday: Treasure Hunt
🏞️ Saturday: Skipton & Yorkshire Dales Tour
🛍️ Sunday: Chester & Designer Outlet Tour